According to the most recent data collected by BAREIS MLS, a current overview of Sonoma County shows an average sold price per-square-foot (psf) of $513 being paid for a single-family home – six percent greater than last year at this time. This climb in values is supported by broader metrics too, as the median sold price for a home has risen to $755,000 while the average price paid was reconfirmed at $953,000. The graph herein indicates a classic example of a market gasping for inventory - noted by the erratic up and downs over the preceding months – whereas more commonly we would see gradually smother lines that trend up and down according to the seasonality of the marketplace more like a "bell shaped curve".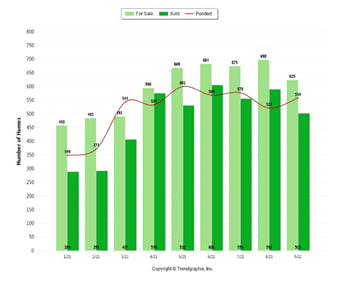 Within the sub-markets of Sonoma County our vaunted Coastline has continued to blaze a trail 32 percent ahead of where it was just twelve months earlier, registering average sold values at $746psf outpacing the gains realized in Petaluma's Westside where prices on a per square foot level jumped 22 percent to $619psf. Neck and neck behind were Windsor and Southeast Santa Rosa experiencing 15 percent jumps to close the period at $464psf and $463psf, respectively, while narrowly dismissing the Cotati and Rohnert Park markets where they touted a 14 percent rise to 408psf.
Accumulating another double-digit gain from last year, Petaluma's Eastside rose 13 percent to $459psf while Sebastopol along with Northeast Santa Rosa heralded in 10 percent ascensions to close September at $599psf and $491psf, respectively.
Just off that pace, the tony town of Sonoma – inclusive of Glen Ellen and Kenwood – along with Northwest Santa Rosa caught nine percent rises to close the month at $725psf and $440psf, respectively. Having caught the wave overcoming the balance of the county, Oakmont experienced an eight percent move to $413psf while the Russian River region climbed six percent to $629psf. Still this side of positive, Southwest Santa Rosa saw values surge five percent to $393psf.
Cloverdale settled back one percent to $354psf while America's favorite small town, Healdsburg, relinquished 15 percent with single-family homes prices trading at $579psf during this period – keep in mind that micro markets like this are impacted by a lower volume of sales which can exacerbate moves in either direction percentagewise.
To move in any direction requires energy. A car needs gas or electricity. As humans we need food and water. As a real estate market, we need inventory!